Attend the webinar and receive 4 CPD hours!
This webinar series has been approved by the Human Resources Professionals Association (HRPA) for up to 4 Continuing Professional Development (CPD) hours under Category A of the CPD log.
You'll receive a unique code for each of the four 45-minute webinars you attend in full. Your code will be emailed to you following the session.
Program
Objectives 
1. Educate wellness champions on being effective ambassadors for wellness within their organization.
2. Share the most successful workplace wellness practices for engagement optimization.
3. Discuss best practices for assessing, implementing, and evaluating your workplace wellness program.
WEEK 1: Defining Wellness & Setting Objectives 
Workplace wellness fundamentals

Defining a healthy workplace

Key elements for planning

Setting the right objectives
WEEK 2: Creating a Healthy Culture
Gaining leadership support
Wellness champions and creating a dynamic committee
Best wellness program components that support a healthy culture
WEEK 3: Implementing Successful Strategies
Successful keys to implementation
Focusing on CVI: Communication, Visibility, Integration
Creating program depth
WEEK 4: Evaluating Your Wellness Program
Establishing value – what to measure and how to report 

Understand VOI vs ROI

Why and how to evaluate

Next steps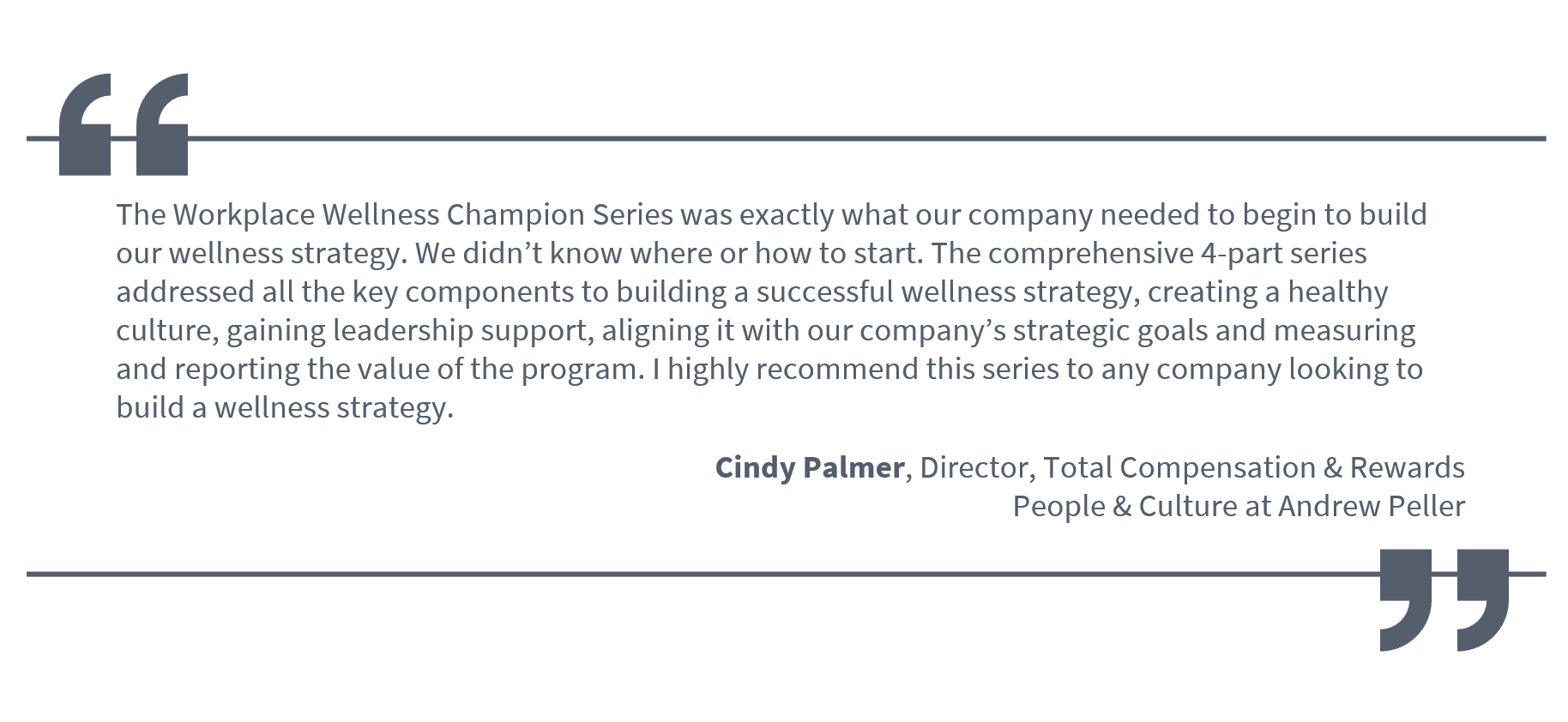 "Excellent research-based webinars with real-life stories to back up the facts."
"Excellent series! It took something that felt overwhelming and broke it down into manageable pieces. I have a much better understanding of where to begin to build a wellness strategy."
"The presentations were good, but I couldn't attend all of the webinars with other work commitments. I love that I can watch the recordings at my own pace now."
"Meaghan is extremely knowledgeable. It was a pleasure learning from her and listening to her experiences and stories. Awesome presentation!"
"I was not able to attend every session at the time that they were offered due to other work responsibilities, but I appreciated knowing that I could go in and access the videos as well as the documentation afterward. I did take advantage of this and have learned a lot."