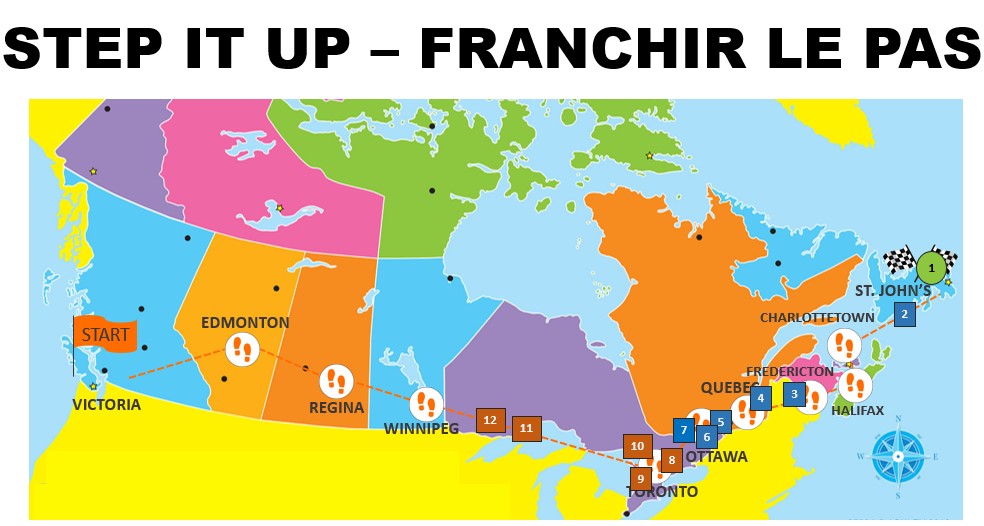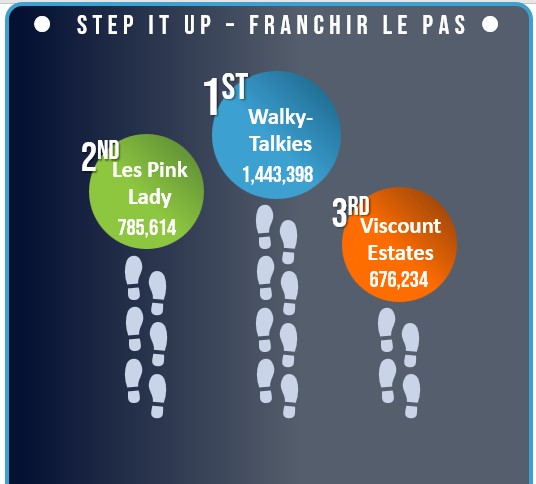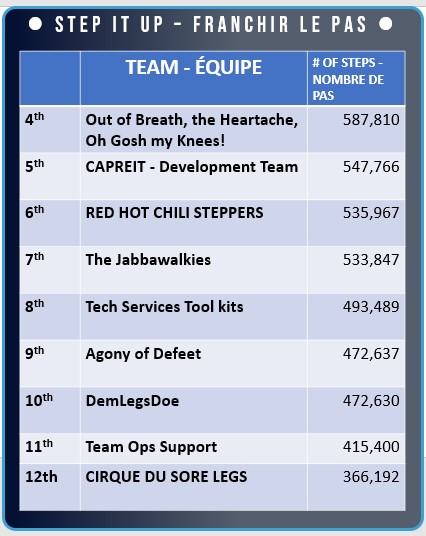 Welcome to Step It Up!
This FUN virtual team challenge is a race across Canada.
Walk, run or hike and submit your steps each day (or at the end of the week). The team with the most steps at the end of the challenge, and traveled the farthest, wins!
Don't have a device to track your steps? Don't sweat it….use our handy conversion table to determine your steps from minutes of walking, running or hiking.
Taking care of our physical and mental health is more important now than ever before. Why not have a little fun along the way?
It's in you to MOVE!
Bienvenue à Franchir le pas!
Ce défi virtuel AMUSANT en équipe est une course à travers le Canada.
Marchez, courez ou faites de la randonnée et enregistrez vos pas quotidiennement (ou à la fin de la semaine). L'équipe qui a franchi le plus grand nombre de pas à la fin du défi, et qui a voyagé le plus loin, a gagné!
Vous n'avez pas un appareil pour suivre vos pas? Ne vous inquiétez pas… servez-vous de notre tableau de conversion pratique pour calculer vos pas à partir de minutes de marche, de course ou de randonnée.
Il est plus important que jamais de veiller à notre santé physique et mentale. Pourquoi ne pas s'amuser un peu en cours de route?
Votre corps veut BOUGER!
DAILY SUBMISSION FORMS /
FORMULAIRES DE SOUMISSION QUOTIDIENNE
Submission forms are for ONE day of steps! You may choose to submit at the end of the week, but be sure to complete one form per day.
Les formulaires de soumission sont destinés à UNE journée de pas! Il est possible de choisir de soumettre vos pas à la fin de la semaine, mais assurez-vous de remplir un formulaire par jour.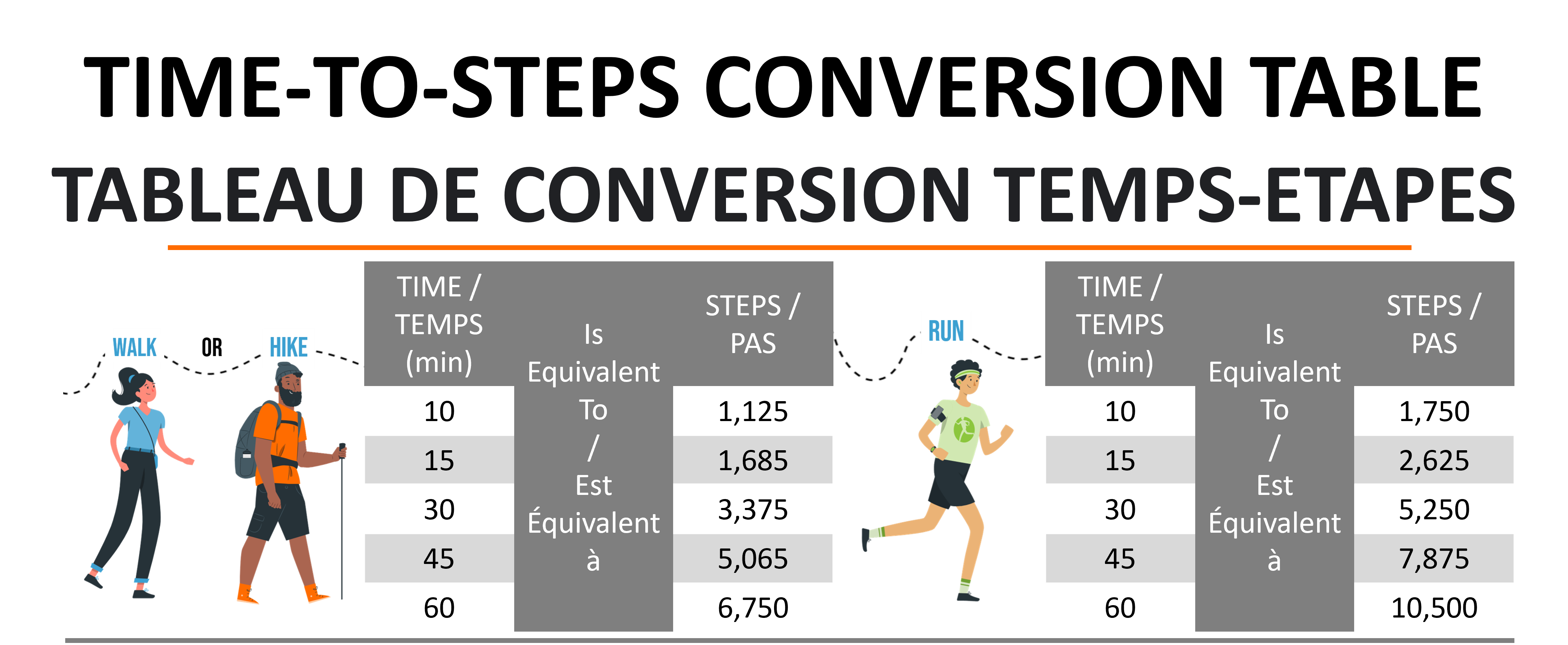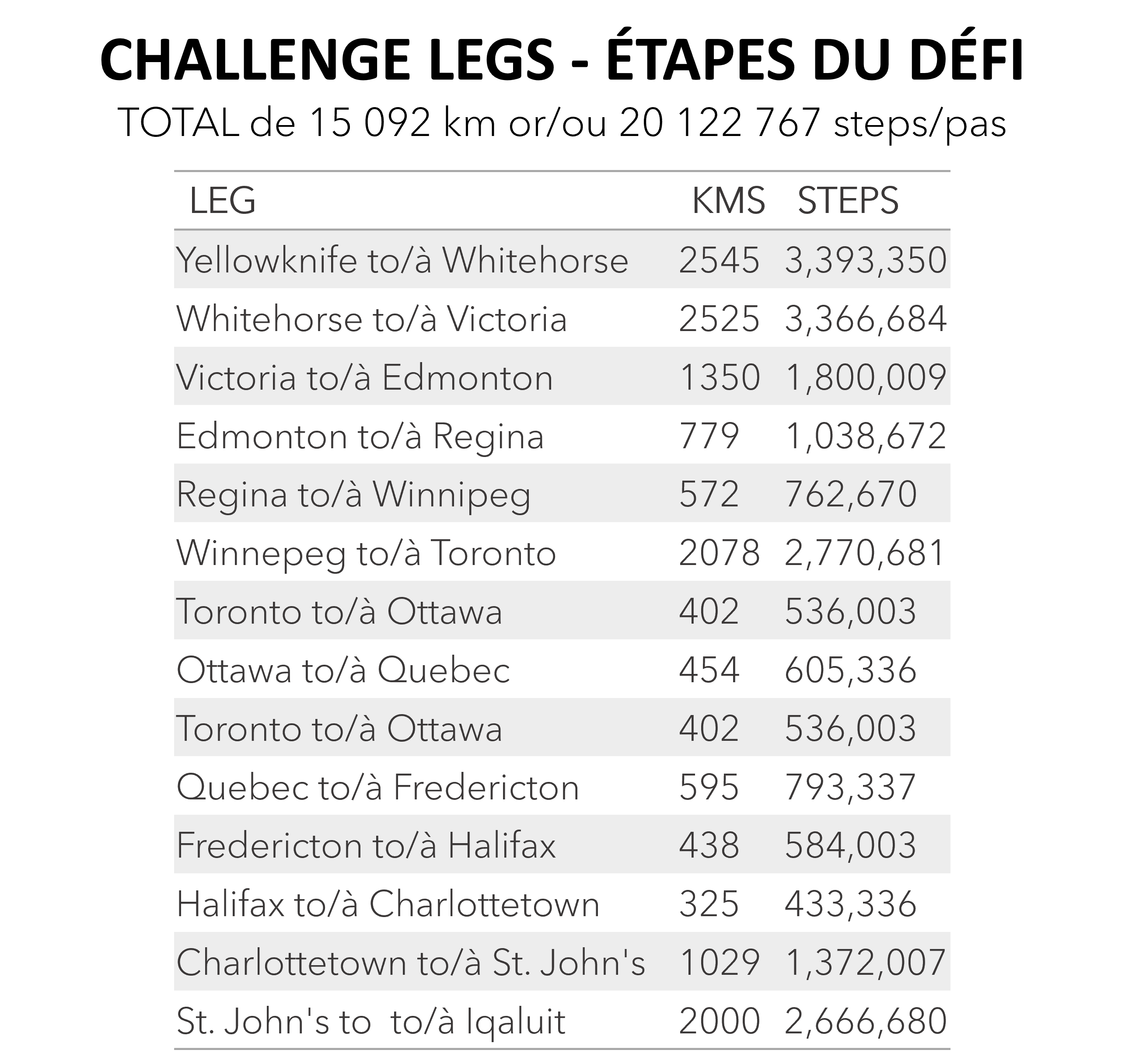 Walk / Hike / Run Facts
*although there are variables in determining actual stride length like height, weight, age, gender and terrain, the following standard values were determined for this challenge.
An average adult step length is 0.75m with very little variation walking vs running.
An average adult can walk 5km in one hour and run 8km in one hour.
If you are not using a device of any sort to track your steps, please use this Conversion Table to determine your steps. Then, enter in your steps in the space provided.
Faits divers sur la marche, la randonnée et la course
*bien que la longueur réelle des foulées soit fonction de variables telles que la taille, le poids, l'âge, le sexe et le terrain, les valeurs normalisées suivantes ont été établies pour ce défi.
La longueur moyenne des pas pour un adulte est de 0,75 m, avec une très légère variation entre la marche et la course.
En moyenne, un adulte peut marcher 5 km dans une heure et courir 8 km dans une heure.
Si vous ne vous servez pas d'un appareil quelconque pour suivre vos pas, veuillez utiliser ce tableau de conversion pour calculer vos pas. Ensuite, saisissez vos pas dans l'espace prévu à cet effet.